Annah Stretton - NZ Fashion Designer specialising in Wedding Dresses, Wrap Dresses & Occasion Dresses. Shop at Annah Stretton instore or online today!
Products and specialities
Women's clothing
Hours
Mon

-

Tues

-

Wed

-

Thurs

-

Fri

-

Sat

-

Sun

-

Holidays

Closed
I'll never stop loving Annah Stretton clothes. Each season, her clothing line delivers - I absolutely love her range of chic dinner jackets/blazers. They have a way of lifting up the most ordinary outfits with their super-awesomeness. I can't wait to see what she has in store for summer (there goes my savings).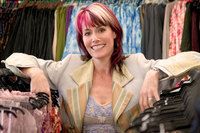 Annah Stretton's 'Birds of a Feather' store is such a lovely place to shop - spacious, and beautifully decorated. The staff are friendly and helpful, they get excited about helping you find the perfect jacket or winter dress. Check out the new winter collection; as usual it's feminine and fun - with a few (but not too many!) frills. Birds of a Feather is definitely on the higher end of the price spectrum, but if you feel like a splurge the quality is worth the price. Find them at: Barton Street