At Aydin's we use fresh, premium quality chicken,marinated for 24 hours and flame grilled to perfection with your choice of basting.
We pride ourselves for our high quality and fresh food filled with extraordinary flavours & nutrition. You'll love it!
This shop was opened few month ago and is quite good. They have nice grilled chicken which tastes really nice. They make pizzas as well. They have a tv in the shop which is good as you can watch tv while you wait for the food :) shop size is small but have few seats to relax and enjoy. They do takeaways as well.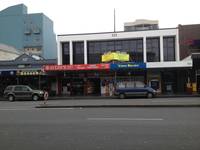 This is a newly opened shop. They are similar to nandos as they do grilled chicken. However they do other items as well such as pizza. Good selection of menu items. This place is not very busy at the moment but will probably be in the next few months as more people find out about this place. Worth trying the food.