Foundation sets the scene for fun and flair in dining. One of the top restaurants Hamilton residents love, it's open from morning brunch to evening dessert.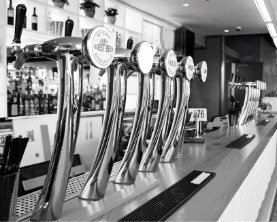 Products and specialities
A bar, kitchen and lounge, this is a gastro-pub that prides itself on craft brew beers.
Hours
Mon

-

Tues

-

Wed

-

Thurs

-

Fri

-

Sat

-

Sun

-

Holidays

-
Awesome place for a meal and few drinks. It kinda has a hotel restaurant feel, but don't let that put you off. It's modern and trendy, with lots of tables and a good vibe. There's a varied gastro-pub menu, and a decent bar serving a whole range of Kiwi craft beers. Find them at The Base. Perfect for a pre/post movie dinner.
YUM!!!! Foundation Bar has quickly grown into one of my fav places to wine & dine. The Staff are always SUPER friendly and go above and beyond. I love the menu selection, very flavoursome. They always make the perfect mix of Kahlua & Coke for me, I have never made it to desset, the meals are of decent size. The Tron Pizza is delish. Clean & tidy environment & also children friendly.