There are three key features that make our pizza authentic Napoletana and irresistible – our dough, our finest quality ingredients and our wood fired oven. Our pizza dough is left to rise for at least 20 hours. Pizza made from dough that has reached...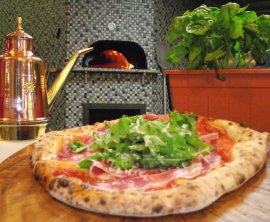 Products and specialities
Pizza bread, garlic bread, cheega bread, pesto bread.
Pizzas -
Marinara, Margherita, Quattro Formaggi (four cheese), American Hot, Prosciutto, Caterina, Salame, Bacon and Egg, Diavola, Chicken, Hawaiian, Terrone, Capriciossa, Carne and many more...
Hours
Mon

-

Tues

-

Wed

-

Thurs

-

Fri

-

Sat

-

Sun

-

Holidays

-