Subway is an American privately held fast food restaurant franchise that primarily sells submarine sandwiches and salads.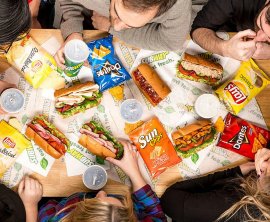 Products and specialities
Classic Subs, Mini Subs, Salads & Wraps, Breakfast, Smoothies, Sides, Catering Platters, School Lunch Programme
Hours
Mon

-

Tues

-

Wed

-

Thurs

-

Fri

-

Sat

-

Sun

-

Holidays

Closed
This is a general shout out to all Subway stores: Keep up the good work. Food is always fantastic, service is usually quick and friendly. What is great is that it is consistently good. Not like most places where you might get good once or twice, but bad the next ten times. Good effort, thats what we like to see.