Grey Lynn Park

,

Grey Lynn, Auckland

1021
Grey Lynn Park has seen it all: Kiwi sporting legends Les Mills and Bryan Williams training to become Kiwi heroes, the suburb becoming gentrified in the last thirty years and one of the first in New Zealand to buy a million dollar house and endless games of touch, rugby, soccer and amateur athletics. Let's not forget the skateboard ramp, playground, mini-paddling pool and flying fox.
With three levels of playing fields, carefully maintained by the council year in and year out, you can get here via so many streets: Elgin, Grosvenor, Williamson, Dryden, Dickens, Rose, Arnold, Farrar, Murdoch and Schofield.
Come check out the thirty-year plus annual festival in November as well!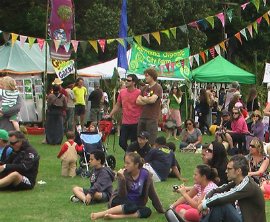 Products and specialities
Parks, Festivals