8B Target Rd

,

Totara Vale, Auckland
8B Target Road

,

Totara Vale, Auckland

0629
(postal address)
(09) 444 6776
Email us
At Mar Automotive we are here to provide to our customers a friendly, quality and accurate service. We are highly trained and experienced technicians specialised in Japanese and European models. We love to deliver beyond our customer expectations. At Mar Automotive, we use latest tools in diagnostic technology, all this is for quickly diagnostic on car and deliver the best results. Give us a call today and bring your car in to see how we can help you.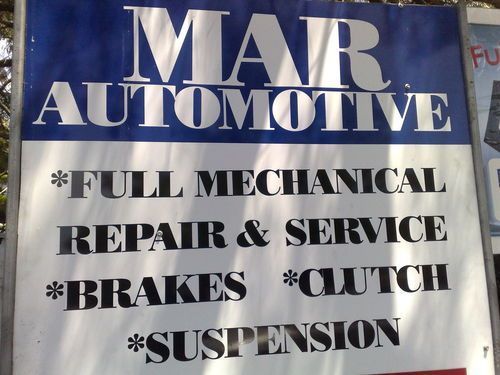 Products and specialities
Brake Pads, Steering Rack Boots, Wiper Check, CV Boots, Oil and Filter Change, Trans-fluid, Gearbox, Suspension, Vehicle Full Service, Grease and Lube, Diagnostics and More.
Hours
Mon

-

Tues

-

Wed

-

Thurs

-

Fri

-

Sat

-

Sun

Closed

Holidays

Closed