The mission of The Salvation Army in New Zealand, Fiji and Tonga is: Caring for people: follow the example of Jesus by identifying with the needy, standing alongside them and caring for people in all situations. Transforming lives: we believe tha...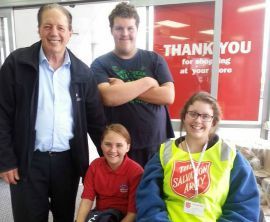 Products and specialities
Second hand stores, charity, church
Hours
Mon

-

Tues

-

Wed

-

Thurs

-

Fri

-

Sat

-

Sun

Closed

Holidays

Closed
Super central location, and always a huge selection of fairly priced furniture (which they can deliver for a small fee!). The only downside with this store is that you have to be super quick as all the new stock gets pillaged by bargain hunters super quick. You can sometimes get crazy good deals on kitchenware also!
There is a box of soft toys there. They're all delightfully bizarre. Twisted foxes, warped bears, shapeless trolls. They're charming, they're cute, they're freakish. They're just the right kind of unique to bring home after a day of delaying texts and emails to say sorry for not being there. Look, I know this one sounds like a bit of a stretch, but seriously, stick with me on this - it has never failed me.
Boasting one of the largest and best selections of furniture of any op shop in Wellington, this Salvation Army store on Taranaki is most useful for its affordable selection of mirrors, wardrobes, and office chairs. A word to the wise: be prepared to make snappy decisions. People know when the new stock comes in, and furniture is bought up fast. Although I've no complaints about my current wardrobe (listed as a 'Genuine Narnian Portal' on Trade Me), I still get pangs of regret at passing on a beautiful one I saw here in February that had already sold the morning after we spotted it.